Our service staff consists of NAFA certified CAFS (Certified Air Filter Specialist) and NCT (NAFA Certified Technician) personnel.
The CAFS program distinguishes those professionals who have demonstrated a thorough, up-to-date understanding of air filtration technology and high level of professionalism. In order to become certified, air filtration professionals must pass an extensive examination on the principles, methods and applications of air filtration.
The NCT program ensures that our service technicians have a thorough understanding of the installation, operation, and maintenance of commercial air filtration systems.
We expect our service technicians to be courteous, on time for service appointments, take pride in their work, and take proper care of your facilities, recognizing and following all safety rules and procedures.
Our service is tailored to fit the needs of your facility and equipment. We will replace the filters in your HVAC equipment according to the maintenance schedule that you specify or we can recommend a schedule based on your equipment and environmental factors, both inside and outside of your facility.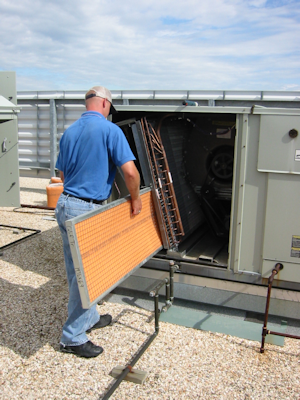 We will always provide sufficient service technicians to match the job size, allowing us to complete the job in a timely and orderly manner. We often have up to 6 or more technicians on large projects so that we can complete in one day what would normally take one service technician a week or more to complete.
While our service technicians are changing filters at your facility, we will notify you of apparent problems that we observe, such as loose belts, noisy bearings or frozen coils.
We will always make sure that when we are finished, the job site will be clean and that all dirty filters are disposed of properly.
Benefits of regularly scheduled filter replacement
Regularly scheduled filter replacement increases equipment life, reduces energy costs and improves indoor air quality.
Our full service saves warehouse space and reduces inventory costs.
Our full service staff can free up your maintenance personnel for more important duties which will increase their efficiency and reduce your labor costs.
We offer a full line of air filtration products, enabling us to provide your company with the correct product for every application.
Our entire staff is trained to meet all of your safety requirements and we are fully insured to provide you with both protection and peace of mind.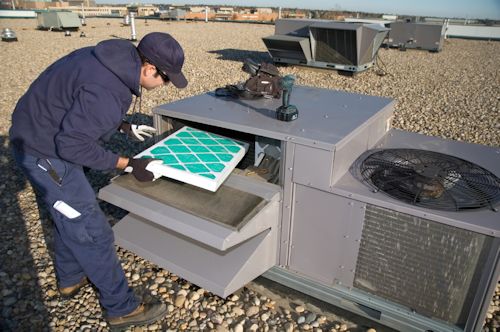 Please call 800-733-8011 for a free, no-obligation filter survey and proposal!